Before I start on my post I just want to remind you that Tuesday will be my first "A Little Distressed" before/after party. I can't wait to see all your before and afters. I have a great desk makeover that I'll be featuring, and I'm also having a Swan Creek candle giveaway.... My favorite candle scent in the world is their Gingerbread, and I'll be mailing one to the lucky winner. To enter all you have to do is enter a project! To get another chance to win you can just advertise the party on your blog... Easy peasy. NOW, onto the regular post. :)
When I first saw this piece she had a huge UGLY hutch top sitting on her…. I walked by her at first, and went to look at other pieces. When I made my second sweep of the store she caught my eye again, and I REALLY looked at her. She is a gorgeous piece from Drexel stamped 1964. The detailing was perfect, and I knew it would make a great buffet or sideboard.
I started by stripping the old finish off the top. It came off pretty easily, and the wood underneath was gorgeous.
I wrapped the top up to protect it while I sprayed it in a creamy off white.
I lightly distressed and glazed the bottom and restained the top dark walnut. I was thrilled with the way it turned out. Although it looks fabulous in my dining room this sweetie is going to live with a good friend of mine from high school!
The glazing and distressing really brought out all those gorgeous details.
The original hardware got cleaned up and a coat of ORB. They look great.
These drawers will make for some fabulous linen storage. I can't wait to see this piece at home in it's new dining room.
I found some great pieces on my way home from the Bon Jovi concert last night. I was looking a hot mess and couldn't believe that I actually got out of the car looking like I did, but it was worth it to score some great pieces….. Hope everyone is having a great weekend! I'm resting up today…. Seems I'm a bit older than I was the last time I went to see Bon Jovi (1987). This 40 year old body needs more recovery time from dancing in the sand and closing down the Florabama! LOL! There will be NO furniture redoing until I've fully recovered…. Rock on Peeps!
Linking up to: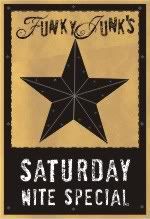 Primitive and Proper